When Yao Jing, Ambassador of China to Pakistan ruminated on 5th July 2019 using the sobriquet
Sweet and peaceful homeland for people of all ethnics group
for Xinjiang. One could not help but smile in dismay and at the same time reel in anguish reminiscing about July 2009 riots of Urumqi.  One just can't avoid taking note of the predicament of native Uyghurs in Chinese Internment Camps. 
An unabashed Yao Jing further elaborates:
Xinjiang is the nearest place of China to Pakistan. When we say that "Sino-Pakistan friendship is higher than mountains", it refers to the Karakoram Mountains between Xinjiang and Pakistan.  As the starting point for China-Pakistan Economic Corridor and the hub area of the "Belt and Road" Initiative, Xinjiang is facing unprecedented opportunities for development.
It amuses one how insensitive the diplomat could be, noting that the very same day, ten years ago was witness to riots, rather pogroms of Uyghurs, a series of organized measures to marginalize the natives.   These measures are continuing till date.
That Catastrophic Day of 2009
On 5th  July 2009, a series of violent riots broke out in Ürümqi, the capital city of the Xinjiang Uyghur Autonomous Region (XUAR), the north-western part of People's Republic of China (PRC).  The first day's rioting saw the participation of at least 1,000 Uyghurs. 
It began as a peaceful protest but did also witness a dimension of violence once Uyghurs observed that nobody was ready to address their issues.  Further authorities deployed China's People's Armed Police. 
On 7th June 2009 hundreds of Han people clashed with both police and Uyghurs. According to PRC officials,  a total of 197 people died,  with 1,721 others injured and many vehicles and buildings destroyed. Many Uyghurs disappeared during wide-scale police sweeps in the days following the riots.  Human Rights Watch (HRW) documented 43 cases and said figures for real disappearances were likely to be much higher.
Genesis of Unrest
Rioting began when the police confronted a peaceful march demanding a thorough investigation into the Shaoguan incident a skirmish in southern China several days earlier in which two Uyghurs had been killed. 
An unfortunate incident took place in Shaoguan, Guangdong, where many migrant workers are employed to obviate shortages of labor.  A disgruntled former worker mischievously disseminated rumors in late June that two Han women had been raped by six Uyghur men.  Although official sources later denied the charges as they found no evidence to support the rape allegation.
On 25th –26th  June, tensions at the Guangdong factory led to a full-blown ethnic brawl between Uyghurs and Hans, during which two Uyghur co-workers were killed.  Exiled Uyghur leaders were of the opinion that the death toll was much higher.  Officials asserted that the person responsible for spreading the rumors had been arrested. Uyghurs alleged that the authorities had failed to protect the Uyghur workers or to arrest any of the Han people involved in the killings. They organized a street protest in  Ürümqi on 5th  July 2009 to vent their anguish and to exhort the government to carry out a thorough investigation.
Further Developments
There is a dichotomy between versions of observers on the raison d'être of protests becoming violent. The PRC central government alleged that the riots themselves were planned from abroad by the World Uyghur Congress (WUC) and its leader Rebiya Kadeer, while Kadeer denies fomenting the violence in her fight for Uyghur "Self-determination".  Uyghur exile groups claim that the actual reason for the escalation was the use of brute force by police. 
The relevance of Rebiya Kadeer
Rebiya Kadeer is an ethnic Uyghur, businesswoman and political activist.  She was born on 15th November 1946 in the city of Altay of China.  Kadeer was an astute businesswoman.  She dabbled in real estate and through her hard work, perseverance and effective business strategies became a millionaire in the 1980s.  Kadeer rose to acquire various important positions in China's parliament and other political institutions.  She was apprehended in 1999 on the allegation of divulging confidential reports to her husband Sidik Rozi.  Rozi worked in the United States as a pro-East Turkistan independence broadcaster.  In 2005 Kadeer had to flee to the United States to save herself from the wrath of Chinese authorities after obtaining her compassionate release.   Rebiya's heart reached out to Uyghurs'cause as she herself had experienced malfeasance of Chinese authorities.  She agreed to be the figurehead in overseas Uyghur organizations such as the World Uyghur Congress.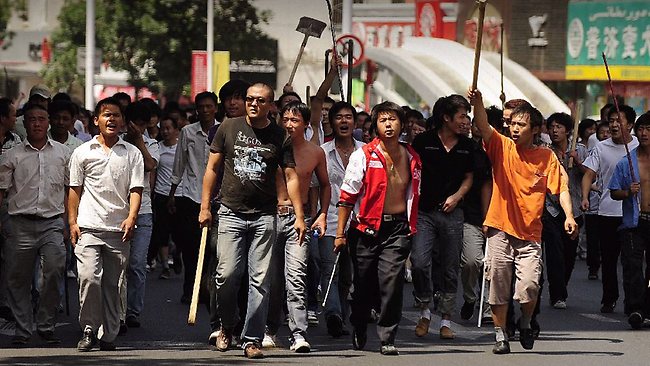 Before this tryst with destiny, Rebiya Kadeer was indeed in good books of the Chinese government.  She was once appointed as a delegate to the eighth session of the Chinese People's Political Consultative Conference under the aegis of the National People's Congress.  She was also was a representative to the UN Fourth World Conference for Women in Beijing in 1995.   Kadeer has also held important positions such as Vice Chairperson of the Xinjiang Autonomous Region Federation of Industry and Commerce.  She was also Vice Chairwoman of the Xinjiang Association of Women Entrepreneurs.
Over the years Rebiya Kadeer has been able to remain relevant and keep bringing up the despicable plight and atrocities on Uyghurs to the attention of world media.  As the Group of 20 summits formally kicked off in Osaka on 28th June 2019, Rebiya Kadeer, requested Prime Minister Shinzo Abe to bring  Beijing's alleged persecution of the majority-Muslim group in the country's far west in the limelight, denouncing Japan's inadequate handling of what is shaping up to be one of the top global human rights issues.
I don't think Japan is playing an adequate role in addressing the issue of concentration camps in China's Xinjiang region.
Kadeer told a news conference in Osaka that coincided with the first day of the G20 gathering of world leaders.  Some experts say up to 1.5 million ethnic Uyghurs and other Muslims could be held in those facilities, often referred to by Chinese authorities as "re-education" centers.
Stark Reality of Re-education Centres
It is reported that around 1 million Uyghur Muslims have been arbitrarily held in what human rights groups call 'Mass Detention Centres'. Former detainees recall physical and mental torture. They reveal forced consumption of pork and alcohol, the study of communist propaganda and Mandarin.
The detainees are made to sing the Chinese national anthem and communist songs, and show gratitude to Chinese Premier Xi Jinping through chants such as "Long live Xi Jinping!." These conditions are corroborated by accounts of former detainees. They recount the inhuman conditions that include electrocution and the forcible consumption of an unknown medicine that caused loss of consciousness among other side effects.
Extradition of People in Exile
Amnesty International's 2018 report states torture, ill-treatment and arbitrary arrests of Uyghurs with no access to legal counsels and imposition of travel restrictions that involve handing over passports to the police and submission of biometric data. Apart from harassing relatives of Uyghurs taking shelter abroad, China has also directly coerced countries such as Egypt to forcibly return Uyghur students and asylum seekers.
Strict mass surveillance is brought to light by a Human Rights Watch report that reveals the use of a certain mobile application (Integrated Joint Operations Platform) by the Chinese police to store data of Uyghurs for the purpose of surveillance. Surveillance through Han Chinese informants appointed by the state is also reported. It can be naturally expected that the Uyghur community will be discriminated against, through the tenets of the Social Credit System that the Chinese government plans to bring in by 2020.
Viewpoint
The Uyghur community has been persecuted en- masse in the pretext of 'stability' and 'national security'. Surprisingly, Turkey is the only Muslim majority country to have publicly called out China on the inhuman treatment meted out to Uyghurs. Mohammed bin Salman, the Prince of Saudi Arabia, has defended China, stating that "China has the right to carry out anti-terrorism and de-extremization work for its national security". Other Muslim majority countries such as Indonesia, Malaysia, and Pakistan have been surprisingly mum on the issue.
The voiceless Uyghur community has received little international support except for condemnation from a few powerful countries, the UN and other human rights groups. However, a systematic violation of human rights such as this needs much stronger opposition.  Would the international community will pay heed and persuade China to refrain from gross violation of human rights?  Only time will tell.
05 Jul 19/Friday                                                          Written by Naphisa