China it seems is all set to have a tryst with destiny and Beijing is found unable to comprehend the situation.  The situation in Hong Kong is becoming impenetrable as the Chinese communist party tends to behave in quite an orthodox manner. It is living in a fool's paradise in assuming that brute suppression would have no consequences.
Dragon doesn't appear to have a coherent strategy to deal with the development. The way ground realities are being ignored by the State machinery speaks volumes about the modus operandi (or lack of it) of the State authorities.
Hong Kong was never an internal matter for China. The system of governance ensures that the international community would have a stake in how the political system evolves in an autonomous territory of China that was once a British colony.
Echoes and Reverberations
The United Kingdom has finally reacted, warning China that it could face "serious consequences" over its treatment of protesters in Hong Kong. The foreign secretary, Jeremy Hunt, "condemned" the violence.
The Chinese ambassador to the UK, Liu Xiaoming, retaliated by saying that relations between China and the UK had been "damaged" by Hunt's comments while the Chinese foreign ministry lambasted Hunt for "fantasizing in the faded glory of British colonialism and [for being] obsessed with the bad habit of criticizing and lecturing on other countries' affairs condescendingly."
Locus Standi of United Kingdom
For the UK it is important to be seen to defend a treaty it signed with China guaranteeing Hong Kong's freedom and relative autonomy. In 1997, under the principle of 'One Country, Two Systems', Hong Kong became part of China with an understanding that it would enjoy a high degree of autonomy, except in foreign and defence affairs for 50 years.
This very principle is being challenged by the extradition law that would allow extradition from Hong Kong to mainland China. Thousands of Hongkongers have taken to the streets to protest against this proposed extradition bill which they fear would be used to target political dissidents.
Protesters stormed and briefly occupied the city's legislature and were driven out by a major police operation after they caused widespread damage to the building. The protesters are demanding a complete withdrawal of the extradition bill and an unconditional release of the arrested demonstrators.
Hong Kong's chief executive, Carrie Lam, has been under enormous pressure because of her mishandling of the situation and for championing the bill earlier. Underlying the anger against the bill is widespread anxiety about the future political trajectory of Hong Kong, even as Beijing relentlessly pursues an agenda of diluting Hong Kong's civil liberties. Lam has suggested that the bill is "dead", but protests continue with no let up in sight.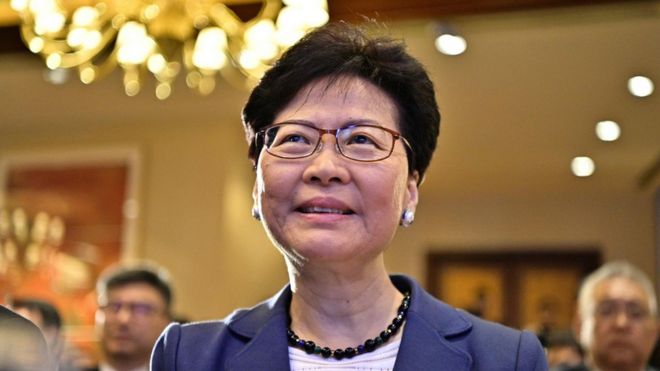 The Chinese president, Xi Jinping, has been quite particular about the need to increase China's hold over Hong Kong. Beijing's belligerence has grown to the point where even a murmur about political reforms is being silenced cruelly.  It is Beijing that decides who governs Hong Kong; only half of the seats in the legislature are filled by popular elections.
Viewpoint
It is unlikely that Beijing will buckle under the pressure. It is already raring to tackle the leadership of the protesters. China will make sure that the message goes out that challenging Beijing's authority will entail significant costs. China has been following the same doctrine of repression towards its minorities in Tibet and Xinjiang.
There has been mass internment of ethnic Uighurs and Muslim minorities. Up to one million Uighurs and other Muslims are reportedly detained in Xinjiang, with extensive technology backed mass surveillance to crack down on the inhabitants' will and morale.  
The repression has been continuing without any challenge from the international community, which is apprehensive about antagonizing China considering the might of its economy. Donald Trump has prioritized the trade dispute with China. Trump has apparently told Xi that the US would tone down its support for the anti-China protests in Hong Kong in exchange for re-opening the US-China trade talks.
The European Union is busy fighting its internal demons. The UK is unlikely to sacrifice its wider relationship with Beijing and Pakistan can't afford to be on the wrong side of Dragon due to its precarious financial condition.  As a result, Hongkongers are left on their own.  Spirit of Hongkongers is truly admirable.  They are fighting a fierce battle to uphold human rights and dignity with terrific grit, determination and never say die attitude.
16 Jul 19/Tuesday                                                                Written by Naphisa
Total Page Visits: 1276 - Today Page Visits: 1